Communications
Above all else communications imply a telephone connection within the hotel. For small hotels it can be a simple mini automatic telephone station and subscribers' telephones in rooms and offices, for hotels with high level of service, telephony is a rather complex system, which may include: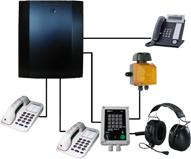 telephone sets in the rooms can have different functions, depending on the category of the room;
telephone sets for the administrative group have enhanced functionality (hotel functions, call-center functions, call distribution and restriction, caller identification, call distribution with e-secretary functions);
wireless service communication for permanently traveling personnel (microcellular communication of DECT standard);
coin-box telephones in the lobby area;
Television is a very popular service in hotels. Modern hotel television systems allow providing services quite flexibly by charging for packets or individual channels and access times to them.
As for standard services, which are certainly in demand in any hotels, they include access to the Internet. In this case access can be arranged both by wireless connections, and by the presence of a wired connection in the room. High data transfer rate and signal quality are especially important in the places of users gathering, for example in lobby or catering areas. Hotels that are lucky enough to have a park area or a beach should take care of the wi-fi coverage and in these places.
Wire broadcasting is not in high demand among modern guests, but it is always present in hotels, mainly as an element of civil defense alert system.
Climate control
The main task of the tourist business in relation to the client is to provide the most comfortable conditions of staying. Properly operating air conditioner is an elementary basic condition for hotels of any level.
Air conditioning systems can have different technical solutions depending on the level of the hotel and the area of the hotel room capacity.
In small hotels they usually install split-systems. It is quite appropriate when the presence of external block under the window of each room is not so important (for example, the units are installed on the back of the building).
For hotels with a small hotel room capacity multizonal Freon-based systems are used - they work according to the same principle as split-systems but they have one or two common external units. Such systems practically do not spoil the appearance of the building (external units can be located on the roof), tubes of small diameter are used for coolant delivery making it easy to "hide" them, they have high profitability.
Large hotels with large volume of cooled premises use chiller-fan coil systems - it is a centralized system that uses water as a coolant. The main cooling unit (chiller) is usually located in the basement. The main advantages of the system are compactness (the unit is not small, but scaling of other systems in large hotel complexes will lead to even more equipment), low cost of water pipes routing, safe coolant, considerable distance and the number of heat exchangers in the premises of the hotel.
The choice of the system type depends to a greater extent on the required productiveness than on its cost.
Air-conditioning systems can be combined with ventilation systems but it is difficult to do in the old hotel fund, and in the new one air-conditioning system are often designed separately from ventilation or after the end of hotel construction at all.
Access control and security.
The tasks of security and monitoring systems and access control systems (ACS) in the hotel are about the same as in any enterprise wherein the staff and visitors are present.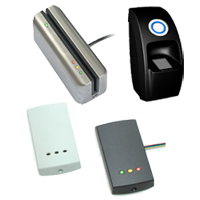 The main area of ACS application in hotels is the control of the visitors' access to the rooms. Usual mechanical locks have not been canceled yet, and many hotels continue to use them. Modern technologies allow to use a card with a chip as a key (such cards are more reliable than cards with a magnetic tape and allow to receive more information).
The main advantages of electronic locks are prestige of the hotel, ability to get information on the room usage, safety and energy saving (the card is in a special "pocket" in the room, when the visitor leaves, the electricity in the room is automatically turned off), automated recording of time of the room usage, flexibility in access right control.
The key card allows to identify the owner in various hotel systems.
Security in a large hotel is primarily a video surveillance system, which is a basis of the entire security system. In addition to the network of cameras, a server room and a video surveillance console (usually the same as remote control) are arranged.
In addition to video surveillance systems the hotels must be provided with: security alarm system , fire alarm system , public address system.
Software
The most effective software to be used in hotels is complex software, through which the hotel staff controls maximum number of systems. Such programs for different positions provide a set of tools in the form of automated workplaces and a corresponding restriction of data access.
Complex software allows to avoid inconsistent information and to have a possibility of deep automated analysis of the hotel work.
Amulet-TEK company offers services in integrated maintenance for all types of hotels. Our specialists have many years of experience in engineering design, installation and long-term maintenance of hotel systems:
- telephony:
Engineering design of hotel's telephone system.
Installation, building-out of automatic telephone station and additional software for billing and recording of calls of customers and personnel.
Ongoing maintenance and repair.
- computer networks:
Ensuring the operation of local network of the hotel (administration).
Arrangement of central server operation.
Provision of qualitative access to the Internet for customers and employees (primarily estimation of Wi-Fi signal quality in the premises) of the hotel.
- fire, security alarm, video surveillance:
engineering design, installation.
Adjustment, ongoing maintenance and repair of any fire-security systems.
- access control:
Organization of access control and recording in the premises and on the territory of the hotel.
Ability to monitor and gather statistics on the location of personnel and customers using specialized software.
- air conditioning:
Engineering design.
Installation of split systems.
Chiller-fan coil systems.
Works in ongoing maintenance: cleaning, disinfection, refrigerating medium refilling.
- electrical works.
High-quality maintenance of machinery allows not only to extend its service life significantly, but also improves the efficiency of its use. Our specialists are ready to provide constant support to Your business at all stages of work, from engineering design and installation to maintenance and post-warranty repair.
The range of services and equipment goes beyond the above list and depends on your needs.