Fire and technical security consists of many interacting elements, one of which is public address and evacuation control system (PAECS). It is an integral part of the general system and represents a whole range of organizational and technical measures aimed at prompt warning of people about the occurrence of a dangerous fire situation. In addition, public address helps to arrange quick and safe evacuation, suggesting its possible ways.
Fire situation usually has a rapid and spontaneous development, which necessarily causes panic and confusion of any person. In such a difficult emotional and psychological state it is hard for a person to concentrate independently and to orientate dartingly in a dangerous situation. That is why public address system is an extremely important link in the security chain for proper and coordinated evacuation control.
Public address systems are for the most part multi-functional devices and can normally be used for regular warnings, for example, to search for any employee or messages of an organizational nature.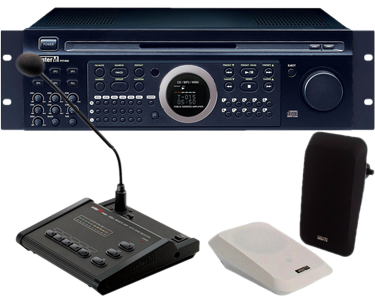 There are local and centralized public address systems. Local public address systems are a set of necessary modules but they do not have any centralized control. Warning occurs by reproducing of previously recorded information text. Disadvantage of such a system is inability to control the evacuation process in the event of an unforeseen situation using a microphone console or other devices. Playback operation occurs in automatic mode. Centralized public address system has more complex construction and a central control unit. There is a possibility of semi-automatic control of evacuation with the help of a microphone: that is, a dispatcher can carry out coordination control in case of dynamic or non-standard development of situation. Centralized public address systems of the brands Dynacord, TOA, Vellez, and Rupor are very popular. Our specialists have installed more than a dozen of TOA voice warning systems. "Rupor" public address system is used, as a rule, in the lowest cost solutions in conjunction with the fire alarm Bolid. Dynacord public address system in conjunction with Siemens Cerberus Pro fire alarm system are installed at large facilities such as power plants, factories, shopping centers, hospitals, educational institutions to provide the most reliable fire protection.
Public address systems must comply with the established standards, the main normative document is NPB (Fire Regulations) 88-2001 "Fire extinguishing and alarm systems". There are five main types of public address:
1. Audible warning. A toned signal, siren or other options may be given.
2. Audible and light warning. In this case, the audio signal and the "Exit" type illumination action are combined.
3. Voice and light warning. Represents the combination of playback operation of warning and explanatory texts, as well as a light signal. Voice warning can be read from media (film, disk or other media). It is better to prepare a short but capacious explanatory text in advance.
4. Combination of voice, light and zone warning. Zone warning can be simple or with a possibility of feedback with a dispatcher. Zone warning is necessary for well-ordered evacuation process, avoidance of crowding in flight of stairs or on stairs.
5. Simultaneous delivery of voice warning, light pointers, simple zone warning or with a possibility of feedback, use of various evacuation options taking into account zoning. In this case, warning has a feedback and is completely coordinated from the control unit of security system.
Selection of an optimal public address system can not be random. It is directly proportional to the area of the premise, the number of storeys, the complexity of internal structure, the number of people and other important factors, the installation is carried out according to a modular scheme.
The main components of public address and evacuation control system are microphone, loudspeakers and amplifier. To improve the performance index and operating efficiency the systems are complemented by various functionality.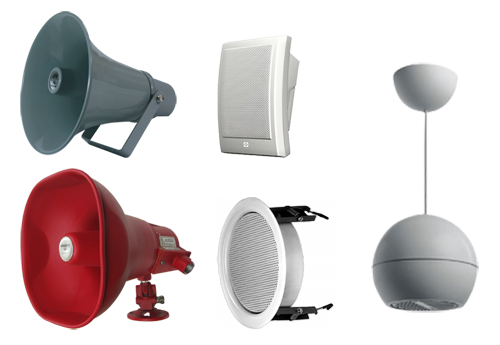 Loudspeaker - is one of the most important elements of the scheme, several loudspeakers can be installed simultaneously depending on zoning and architectural features. They may differ in power, shape, size or other parameters. There are:
Horns. They are characterized by high sound pressure, a narrow range of reproducible frequencies and a small angle of sound waves emission. Usually they are installed at a height (poles, towers, supports). They are effective where the level of noise is the highest, for example, at manufacturing workshop or construction sites.
Suspended-type loudspeakers can be used in complex ceiling structures with different height and configuration. They are applicable in shopping centers, large-scale exhibition halls. They provide uniform sound even when mounted on complex ceiling structures, for harmonicity they are installed in the same row with lighting devices.
Dust-proof-and-moisture-proof loudspeakers. They are the most effective in open sites. Their characteristic property is in the resistance to temperature fluctuations and atmospheric manifestations. The body is usually made of high-quality plastic or metal.
Loudspeakers for suspended ceiling. Special springs are installed for their assembling, after that the loudspeaker is mounted.
Wall-mounted loudspeakers. It is the most common type with a simple installation procedure. They are harmoniously match any interior, are fastened to the wall with dowels.
Specialized loudspeakers. A special caste of equipment that has explosion-proof and spark-proof characteristics. Such loudspeakers are used in high-tech or chemical production, as well as in the mines. The only disadvantage is the high cost.
Public address systems differ in the range of reproducible frequency. The additional functionality, for example, a mixer, gives the systems more distinct and clearer sound. This is especially important if such systems are used for musical accompaniment during regular mode of operation.
The basic rule for public address system installation, which must be adhered to rigorously, is that the installation should be carried out exclusively by an experienced technician. The main points, which the attention should be paid to in the design, are as follows:
public address system must be integrated with a system of evacuation lighting;
all equipment should be at the level of audibility and visibility for all people;
to ensure unobstructed opening of locked doors in case of emergency fire alarm system activation;
zone separation should have a sequential warning.
Public address systems should be installed in places of diversified use: schools, hospitals, shopping centers, museums and libraries, warehouses and production facilities. Not only the safety of valuable property or equipment depends on the coordinated work of the public address system, but the preservation of human health and life is of paramount importance. Therefore, it is so important to carry out the choice of the system type, its installation, commissioning and maintenance by experienced specialists. Unsuitable choice of the public address system, savings on materials, licensing or on services of professionals can lead to tragic consequences.
Classification of public address and evacuation control systems in case of fires in buildings (extract from Design and Construction Specifications 3.13130.2009)

Characteristics of PAECS

Availability of these characteristics with different types of PAECS

1

2

3

4

5

1. Methods of warning:

sound (siren, toned signal);

+

+

*

*

*

voice (transmission of special texts);

—

—

+

+

+

light:

а) light flashing annunciators;

*

*

*

*

*

b) light annunciators «Exit»;

*

+

+

+

+

c) evacuation signs of fire safety indicating the direction of movement;

—

*

*

+

*

d) light annunciators indicating the direction of people's movement with changeable semantic meaning

—

—

—

*

+

2. Sectioning of a building into public address zones

—

—

*

+

+

3. Feedback of public address zones with a premise of fire station-alarm room

—

—

*

+

+

4. Possibility to implement several evacuation options from each zone of public address

—

—

—

*

+

5. Coordinated control of all systems of a building associated with ensuring of people's safety in the case of fire from one fire station-alarm room

—

—

—

—

+
Note: «+» — required; «*» — allowed; «—» — not required.