Automation of residential and office buildings includes a range of activities that enable control of all major engineering systems, audio or video equipment, firefighting and security systems. Siemens Conglomerate Company is a leader in production of modern software and hardware equipment for automation of the underlying systems in buildings of residential or commercial purpose.
The date of "Siemens" Conglomerate Company foundation is considered to be the 12th of October, 1847, when a scientist-engineer, a public figure and politician Werner Siemens together with Johann Halske founded a company called "Telegraphen-Bauanstalt Siemens & amp; Halske". Initially the company was engaged in development of equipment and devices in the field of electrotelegraphy and manufacturing of electromedical devices. From this moment the rich history of the company formation on the scale of global market begins. Gradually there were opened offices in the capitals of the world; there were organized the capacities for equipment manufacturing in many countries, expanding the field of the company's activity. For more than 160 years of fruitful work, Siemens Conglomerate Company experienced different times, made reorganizations and sought for new types of activities, but it has always adhered to the principle: never look back! Siemens of our age is a huge interacting organism with its potent development department, production, research activities and its own exploratory studies in the field of nanotechnologies. Conglomerate Company is among the leaders in range and geographical presence along with such great companies and organizations as Coca-Cola and FIFA.
One of many specialized units of the company is the branch for organization of efficient automation of systems in residential premises or on a scale of office buildings. Products of the unit include the following categories:
Equipment for automation of engineering systems. It includes the devices for ventilation, energy efficient, air-conditioning and lighting systems (thermostats, valves, damper actuators, controllers, indicators and transducers).
Equipment for automation of security and firefighting systems. It includes the devices, which provide control and monitoring of fire extinguishment, alarm and smoke ventilation systems.
One of the branches of the Conglomerate Company's activity is to find solutions for the most effective organization of energy saving in heating, lighting, air conditioning and ventilation systems. Experts suggest a milestone program to improve power usage effectiveness:
1. Preliminary development of a concept individually for each object.
2. Organization of a single control system.
3. Analysis of the systems performance with a purpose of further development in order to eliminate errors.
4. Constant monitoring for further optimization.
All the above activities are the basis of resources conservation, the main characteristic of efficiency of systems interaction and the first step towards the organization of a "smart building".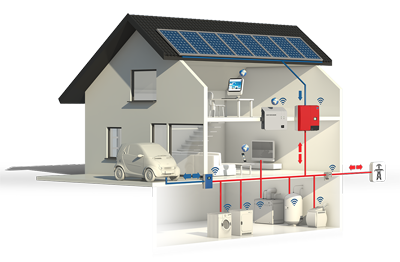 "Smart House" concept is a full interaction of automated life support systems in residential or office buildings. The systems can be installed simultaneously, by stages or upgraded in the course of time, necessary condition - is the ability to "connect" all systems together and install an automated control, which can be carried out via mobile phone or Internet.
For information of some skeptics, the "Smart House" system is a reality, not a myth. The age of nanotechnologies and innovation developments dictates its own terms, which should be adhered to by every company intending to occupy top-ranking positions in the rating and to keep pace with the times. Siemens Conglomerate Company fully corresponds to the understanding of a modern company successfully engaged in developments in such industry. Experts tirelessly seek nano-ways to solve problems in effective organization of life support systems and their automation, which raises comfort to the next level.
Automation system "Smart House" by Siemens has already been highly appraised from customers in the US and Europe, and is now gaining popularity in the CIS countries. The basis of such system is represented by Synco product line designed for organization of automation and dispatching of private or commercial facilities. Synco product line for automation is characterized by its simplicity of installation and operation, creative design of the units and adaptation by means of the standard KNX communication protocol. Such a protocol allows further upgrading and connection of new devices to improve the functionality and performance characteristics of engineering or fire safety systems.
Synco Living Line by Siemens is designed to provide maximum comfort and security, to exclude emergency situations and keep the order even during longterm absence of owners. Classification of the main devices includes:
Central apartment unit QAX910. The principle of operation is to obtain basic data from each sensor, rapid processing and analysis of information, as well as centralized control of all engineering systems. The unit is equipped with an interface with displaying of all indicators of energy consumption.
RR V912 and RVV918 - heating circuit comptrollers. The principle of operation is to receive commands from the central unit of the system.
QAW910 – is a wireless unit intended for measurement and control of temperature in the premise. The unit is powered by a battery and does not need to be connected to an external voltage source.
SSA955 – is a actuator for radiator valves intended for data transfer to the control device by means of a radio channel, does not require an external power source.
WRI982 – is a primary interface of data collection. It is an integral monitoring element of the automation system, it connects all meters. Sending of information takes place cyclically allowing the user to control all energy costs. The innovation lies in the ability to acquire data remotely via a web browser.
Each representative of Synco Living products helps in creation of a single complex of interacting and well-functioning integrated life support systems. The studies have shown that such a complex not only improves the comfort and safety characteristics, but also helps to cut energy costs by 30%, and this is the financial benefit of automation. Siemens Company offers a wide range of necessary functional and specialized devices from the GAMMA catalog to the customers. This allows to create automation systems according to individual demands and needs, to vary financial costs, to modernize systems and to add new opportunities to them.
Proper implementation of home and office automation by Siemens will help the owners significantly reduce financial costs for energy consumption, simplify the maintenance of security and life support systems, improve the level of comfort and prestige, improve the ecological situation.